Properly targeted dietary therapy as a primary intervention can have a tremendous impact on patients, often to the point of complete symptom remission. Dietary intervention improves outcomes and quality of life and can save thousands of dollars by addressing the underlying cause of symptom production often triggered by a sensitivity to certain foods.
Do you know the difference between a Food Sensitivity, Food Allergy and Food Intolerance?
December 9th, 2013 by
leapintowellness
Say good morning to a quick, heavenly, and healthy breakfast- WAFFLES! Seriously, the smell of waffles in the morning is the best alarm clock in the world and nothing warms up a chilly morning like a crisp fluffy waffle. These waffles are SO easy to prepare, coming together in about 30 minutes and requiring a minimal amount of equipment. Plus, they're extremely customizable.
I've been enjoying mine in the morning with fruit on top and drizzled in little pure maple syrup. Sometimes I'll add a few nuts on the side to make a fiber filled breakfast, and for a little holiday kick I'll sprinkle some cinnamon in nutmeg into the batter.
These waffles freeze well, so they're the perfect quick healthy breakfast option to grab, toast, eat and go. I also love that they're special enough for a lazy weekend meal and simple enough for rushed weekday mornings. What more could you ask for from a waffle? Not much, I think. Enjoy!
WAFFLE RECIPE
BLEND THE FOLLOWING UNTIL CREAMY:
¼ – ½  cup pecans
1 cup soy milk (rice milk, almond milk or milk of choice)
1 1/2 cup water
2 cups rolled oats
2 tbsp. honey (agave nectar, maple syrup or other sweetener of choice)
¾  tsp. sea salt
2 tsp vanilla
optional: add 2 tbsp hulled sesame seeds
You have to eye the consistency don't want to thick or too runny.  I sometimes add more oats and more water and sometimes more soymilk.
Drop onto waffle iron according to directions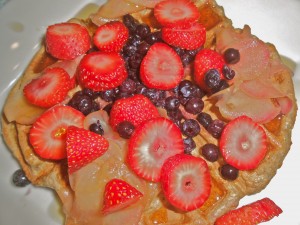 No Comments
«
Boston Vegetarian Food Festival
•
Plant-Based Cooking Class Series
»